A CHRISTMAS MISSION 2017
Larry and Deborah Mininger
On May 7th 2016 Deborah and I were honored by all of our children and their spouses coming to our place to celebrate our 50th Wedding Anniversary. What a party they put on and the joy of having all our children together in one place was unspeakable. It had not happened for 14 years. Before that it was another 14 years. It was God's timing. About 40 guests attended the party and celebrated with us at Bethel Life Worship Center in PA. Thank you everyone for including us in your list of close friends. God is so good! Thank you to everyone who sent greetings and a gift! The lady God gave to me is the second greatest inspiration in my life (God is the 1st )! Larry and Deborah!
50th Anniversary Celebration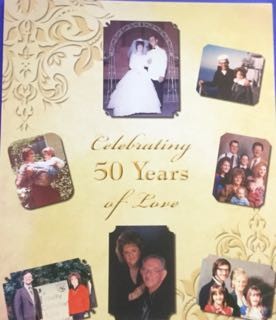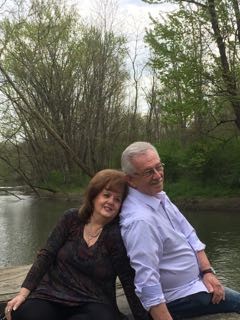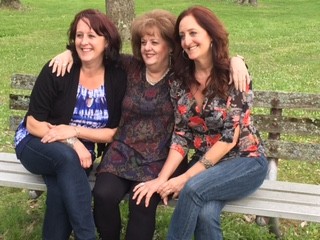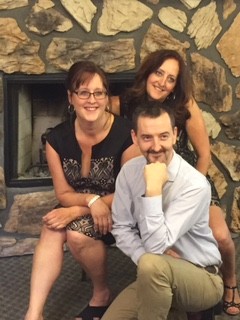 Debbie with daughters
Tamara & Shawna
Can you believe it has been 50 years?
Our children: Tamara, Shawna and Joshua.
A Season For All Things; Hospitals?
As most of you already know, on our last trip to Ukraine, Deb and I contracted a bad strain of food bacteria in a local restaurant. It landed us in the disease control hospital for 5 days. We were in separate rooms on IV-antibiotics until our system was cleaned and flushed.
While still in Estonia, Larry developed a Strep bacteria in his right outer ear. It became so inflamed that it placed him in the hospital in Greenville, PA upon his arrival to the States. While in the emergency, it produced an A fib situation in his heart due to the intensity of the infection. Doctors have now carefully monitored and regulated the heart rate. All is well! Larry has recovered in strength and energy. We are praying with great anticipation for the work in 2018.
When Solomon said there is a season for all things (Ecc. 3:1), we never guessed that it might include hospitals and health challenges. But one thing is sure, at the moment of admission, prayers were going up from many believers around the globe. We want to report that in each case we were well cared for and that prayer determined the hospital discharge dates. Thank you so much for caring enough to pray. As ministers we pray for so many people around the world. But being on the receiving end is an entirely different level of applied faith. There is a dependence on others to break through when it is apparent that you are not succeeding by yourself. For each one who pursued the Spirit of prayer and supplication that provided our breakthrough, we praise our God and thank Him for you!
Finding The Spirit Of Christmas
We all like to think of our church as one that is well established on the foundation of Christ. Therefore, we allow our emotions to conclude that our church will stand through any storm. Deb and I hope it does! However, the reality is that in today's world the church is under continuous assault. Laws are being changed in one country that make it illegal to ask for tithes and offerings if they are not a part of a large registered denomination. New or small independent churches are facing serious decisions. In other places in the world, finances are in a hyper state of flux. Some pastors are not receiving a salary to live on and church rent monies are in question. As we have seen even in America, the devil is sending his ambassadors to walk in and kill our precious brothers and sisters while they are worshiping. Their families are in mourning as the rest of us celebrate this Christmas season. Another place Deb and I are connected, they are losing their building just before Christmas.
I am well aware that the above conditions appear to have been taken from the doom and gloom playbook. But I bring it to our attention to cause us to look deeper than usual. Earnest prayer is needed this Christmas. Our eyes need to be refocused on the real goal of the church. Is it not to assist each other in holding on to Christ Jesus all the way through this life until we are changed in the twinkling of an eye and our salvation is finally consummated (Heb. 11:13)? I know everyone would rather hear success stories instead of reading a dose of reality from some remote locations. But in this Christmas season, I felt the Holy Spirit prompt me: "Pose the need for coming together in the strongest prayer for faithfulness. We must carry one another as Christ carries us!" Is that not the essence of finding the Spirit of Christmas?
When we take an unashamed look at the difficulties many churches face, we declare openly that we desire something better, that is a heavenly country. Therefore, God is not ashamed to be called our God, for He has prepared for us a city that has foundations (Heb. 11:16). For those ministries around the world that are facing unthinkable conditions, please pray that their eyes are not so much fastened on this world situations but on the next. I do not want to see wonderful brothers and sisters in Christ give up on the Lord because of this world's threats and hardships. In this Christmas season pray that leaders will "not cast away their confidence, which has great reward. For you have need of endurance, so that after you have done the will of God, you may receive the promise: For yet a little while and He who is coming will come and will not tarry. Now the just shall live by faith"(Heb.10:35-38).
Prayers for Churches and Christians Around the world: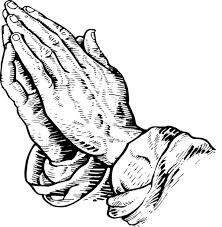 1. Pray for Coptic Christians in Egypt, Iraq, Iran and all other Muslim Countries. These precious people are under life threats year around but especially at the Christmas Season. They deserve our prayers of faith as we stand with them in unity of the faith!
2. Please cry out to our Lord for Missionaries who serve in dangerous places. They have taken a stand to serve up the gospel in places where it is unwelcome. Pray for courage, safety and their impact.
3. Christian Workers are traveling this Christmas season to see family and then return to the field. Others do not have funds to make the trip. Pray for comfort of the Holy Spirit for them and their extended families. Pray for family members who do not understand the "calling" to make such a sacrifice. People on both sides of the calling pay a price. Holy Spirit please sustain every co-worker in Christ, even the family members not called to go need a touch from the Lord!

Clearly, the Holy Spirit is calling on all of us to join Him in carrying the burden of the Lord for His fragile churches and ministers located in dangerous places in the world. God is not ashamed to be called their God. Let us not be ashamed of identifying with them and crying out for grace to encapsulate them in the Love of Christ!
"Pray for Ministers on the front line that our God will give them a Holy and Blessed Christmas in the middle of their storm!"
Love and blessings to all friends and partners;
Have a Blessed Christmas! Larry and Deborah Mininger; Eastern Europe and Scandinavia!